Student Success Office
The Student Success Office, Room 213/214 in the University Center, is designed to help students' personal growth, professional development and academic progress from enrollment through graduation. Our goal is to connect students with resources, guidance and other services to ensure their success. In keeping with this mission, we offer study skills workshops, learning styles assessments and other valuable tools to help students make the most out of their college experience.

Services available include:
Study Skills Assistance
Connect with Campus Support Resources
Provide Academic Advisement Support
Advise and Case Management Raider Athletes
Early Alerts
Student Success Workshops
All workshops are free to attend and offered in-person and virtually via Zoom. View our semester workshop schedule for more information. 
To request a customized workshop for a group, please contact the Student Success Office at (405) 733-7334 or email diversity@rose.edu.
Printable Student Success Fall 2023 Workshop Schedule (PDF)
Financial Literacy Program
Couponing 101
Building a Better Budget
Credit Score Coaching
Take Charge: Wise Use of Credit Cards
For more information, contact the Student Success Office at (405) 733-7334 or studentsuccess@rose.edu.


Diversity Center Calendar Of Events
Fall Semester 2023

August
08/19 - Back To School Family Fun Day
08/29 - Diversity Bbq

September
Hispanic Heritage Month
9/06 - Simple Steps To Writing Better Essays
9/15 - Success In Math Workshop
9/22 - Girls Who Steam
9/30 - Fiesta De Las Américas Festival & Parade

October
Native American Heritage Month
10/05 - Scholarships Workshop
10/09 - Indigeneous People's Day
10/11 - Resume Writing Workshop
10/24 - Time Management Workshop November
11/07 - Black Male Summit
11/09 - Budgeting Workshop
11/29 - De-stress 101

Resources
Raider Necessities (Food-pantry)
Raider Rack (Clothing Closet)
Student Success Center
Case Management & Advisement Of Student Athletes
Workshops & More!
Contact:
Rose State College Diversity Center
Diversity@rose.edu
(405) 733-7431
Located Across The Street From The Jeanie Webb Student Union
Rose.edu/diversitycenter
Rose State College Back to School Family Fun Day
Saturday, August 19th
10am-2pm | Diversity Center Parking Lot 6012 Prosper Blvd
Campus Tours
Food Truck
Giveaways
Bounce House
Games
Flyers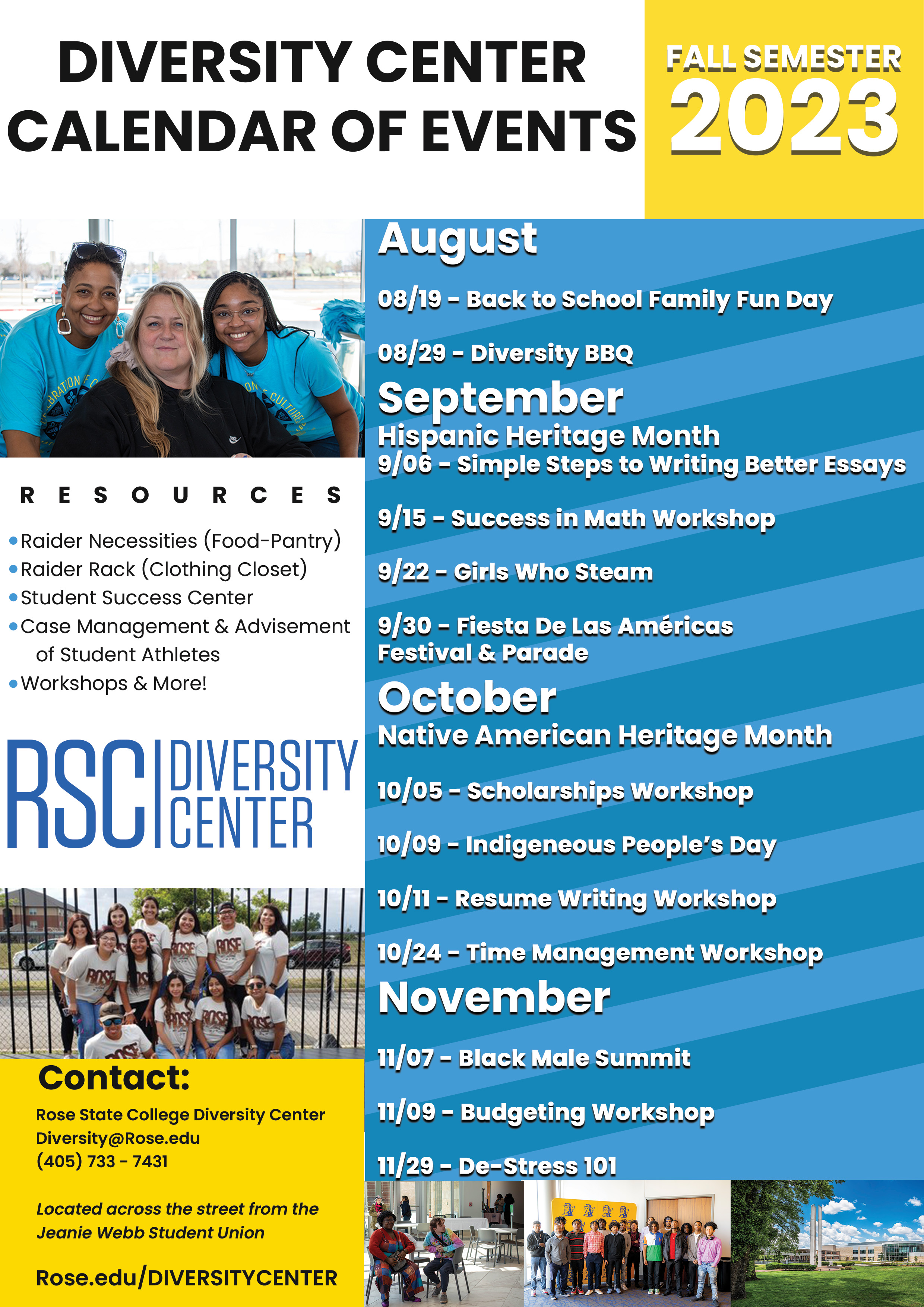 Fall 2023 Diversity Center Events (PDF)

Family Fun Day (PDF)