Speakers
Speakers: FA18 Striper, Hybrid, and White Bass Techniques 
Thursday, October 4
7:30pm-9:30pm 
Steve Carroll
Over 35 years of experience catching striper. Steve is a full-time striper and hybrid guide on Lake Keystone, Skiatook Lake and the lower Illinois River. Steve has been fishing since he could hold a pole and been guiding hassle free, fish catching expeditions since 1980. There is nothing more rewarding than the smile on the face of a 10-year-old after he has brought in his third Hybrid Bass in only 10 minutes! These are great sessions to bring all your fishing buddies.
NEWSOK ARTICLE:  COOL, CLEAR WATER: Big stripers lurk in the Lower Illinois River 
Thursday, October 11
7:30pm-9:30pm 
Lance Lutke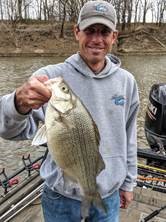 Lance Lutke, a licensed Oklahoma fishing guide, grew up in Bartlesville, OK fishing all the area lakes and rivers with family and friends. While living in Texas, fishing became more than just a hobby. After winning the first couple of tournaments he entered, a few local fishing guides encouraged him to give guiding a try. Lance is a full-time white bass guide on Grand Lake, Oologah Lake and Ft. Gibson Lake.
Thursday, October 11
7:30pm-9:30pm 
Gary Dollahon
Oklahoma reporter on FOX Sports Southwest Television. Expert on Oklahoma rivers. Dollahon is a knowledgeable recreational angler, who pursues a variety of species. He is also the proprietor of Dollahon Public Relations. His and his staff's offices are located within the confines of Gene Larew Lures' building, and at times he has played a significant role in helping them create new baits, such as the Inch Worm.
OCTOBER FISHING WITH GARY ARTICLE
Thursday, October 18
7:30pm-9:30pm 
Bill Carey
Bill Carey is a 3 time Texas Freshwater Fishing Hall of Fame nominee, member of the Texas Outdoors Writers Association and is the authoritative writer for the Lake Texoma Association magazine. Chris is now the front person for all media, Bill maintains all operations now. Bill is currently the areas freelance photographer and has developed a specialized internet blog to cater to the areas expert fisherman. In addition to his prolific writing on Lake Texoma fishing, Bill and Chris have been interviewed as featured guests in numerous area newspaper and magazine articles where they continue to contribute their insight and unique expertise of North Texas lake fishing activities. 
From his earliest exposure to North Texas Lake fishing in 1977, Bill Carey developed a vision of a recreational business as a visitor's guide for striped bass lure fishing on Lake Texoma. Six years later in 1983, Bill's opportunity became reality when he started to provide his expert guidance and services to fishermen in the North Texas and Oklahoma areas. By following his innate instincts and clear vision for a Texoma area lake fishing expedition business, Bill began his Striper Express Guide Service and now, thirty-five years later, Bill Carey and his crew continue to provide world-class recreational lake excursions for thousands of fishermen that visit the region's largest fresh water resource.