Kids College
Why would kids want to go college? We can think of quite a few reasons: Arts, crafts, reading, cooking, cheer, swim classes, field trips, pool parties, even rocket building! Our afterschool program and Saturday classes are the perfect mix of fun and learning.
Not only do children love Kids College, parents do, too. And you'll find it's easier and more convenient than ever to enroll. Rose State has implemented an online registration system that enables you to simply browse through the classes and camps, and then sign up for those in which you might be interested. Just remember to enroll early as space is limited!

KIDS COLLEGE ENROLLMENT LINK


Click on picture for summer brochure.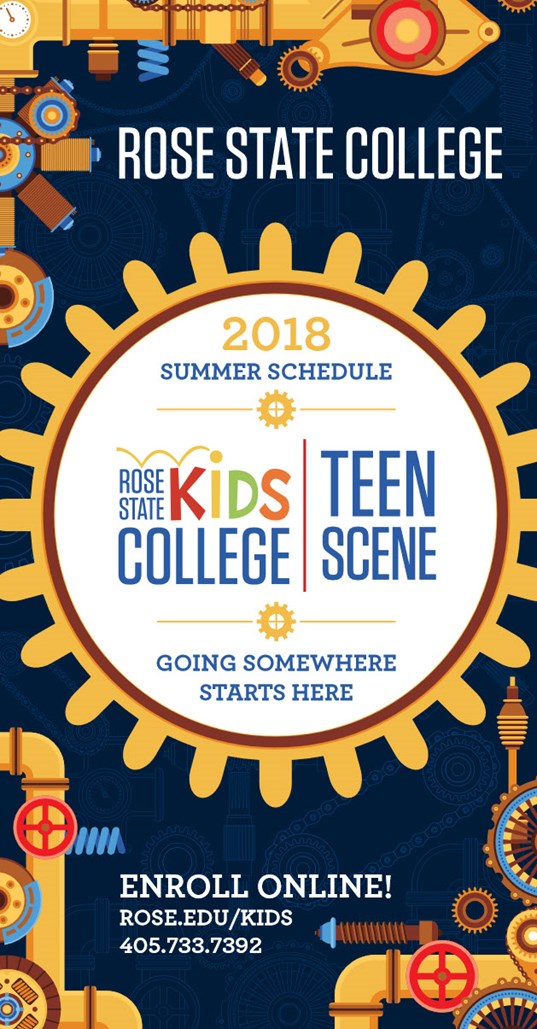 Instructions
Please complete the following for each child in your family before the first day of camp. Completion of each step will provide a quick check-in process.
Step 1: Enrollment 
KIDS COLLEGE ENROLLMENT LINK
Browse classes according to grades. Youth and Teens
Set-up a profile or review your profile for accurate information and enrollment.
Login/Create Account.

Step 2: KidCheck Registration
At Rose State Kid's College and Teen Scene, nothing is more important to us than the safety and security of your children. That's why we've chosen Kid Check System as our children's check-in solution to bring you the best check-in experience and to allow us to partner with you to keep your child safe.
Note: If you created an account from Summer 2017, please review your account and assure update paswords as needed for check-in.
Step 3: Media Release and Discipline Policy
About The Community Learning Center
Street Address
6191 Hudiburg Drive
Midwest City, OK 73110
Get Directions
Phone
(405) 733-7392
Mailing Address
6420 SE 15th Street
Midwest City, OK 73110