Overview
For news, schedule changes, and more, follow us on social media @rscathletics
Annual Soccer Tryout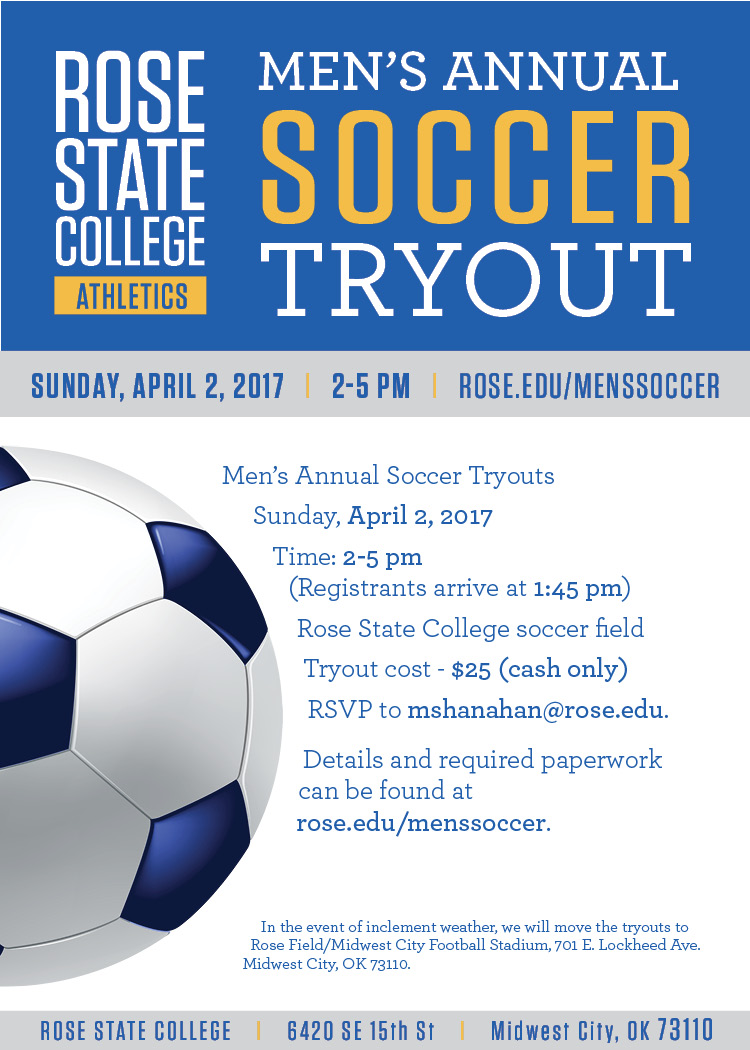 Rose State will be hosting its annual tryout on Sunday, April 2, 2017, to look at players that could help our program for the Fall 2017 season. The tryouts will be held at the Rose State soccer field from 2-5pm.  Please arrive by 1:45 pm. 
The cost of the tryout will be $25 (cash only). Players will receive a t-shirt with a number on it and some more information about Rose State College. All players will need to bring with them the following items: tennis shoes, soccer cleats, shin guards, and water .
All attending players will need to RSVP to mshanahan@rose.edu and fill out the following paperwork (found on our website). These forms can be emailed, mailed, or brought the day of tryout.
In the event of inclement weather, we will move the tryouts to Rose Field/Midwest City Football Stadium.
Rose State College - 6420 Southeast 15th St. Midwest City, OK 73110
Rose Field/Midwest City Football – 701 E. Lockheed Ave. Midwest City, OK 73110
For more information about the College please visit www.rose.edu or for the soccer program please visit www.rose.edu/athletics. If you have any additional questions, please email Coach Shanahan (mshanahan@rose.edu) or call the office at (405) 736-0367.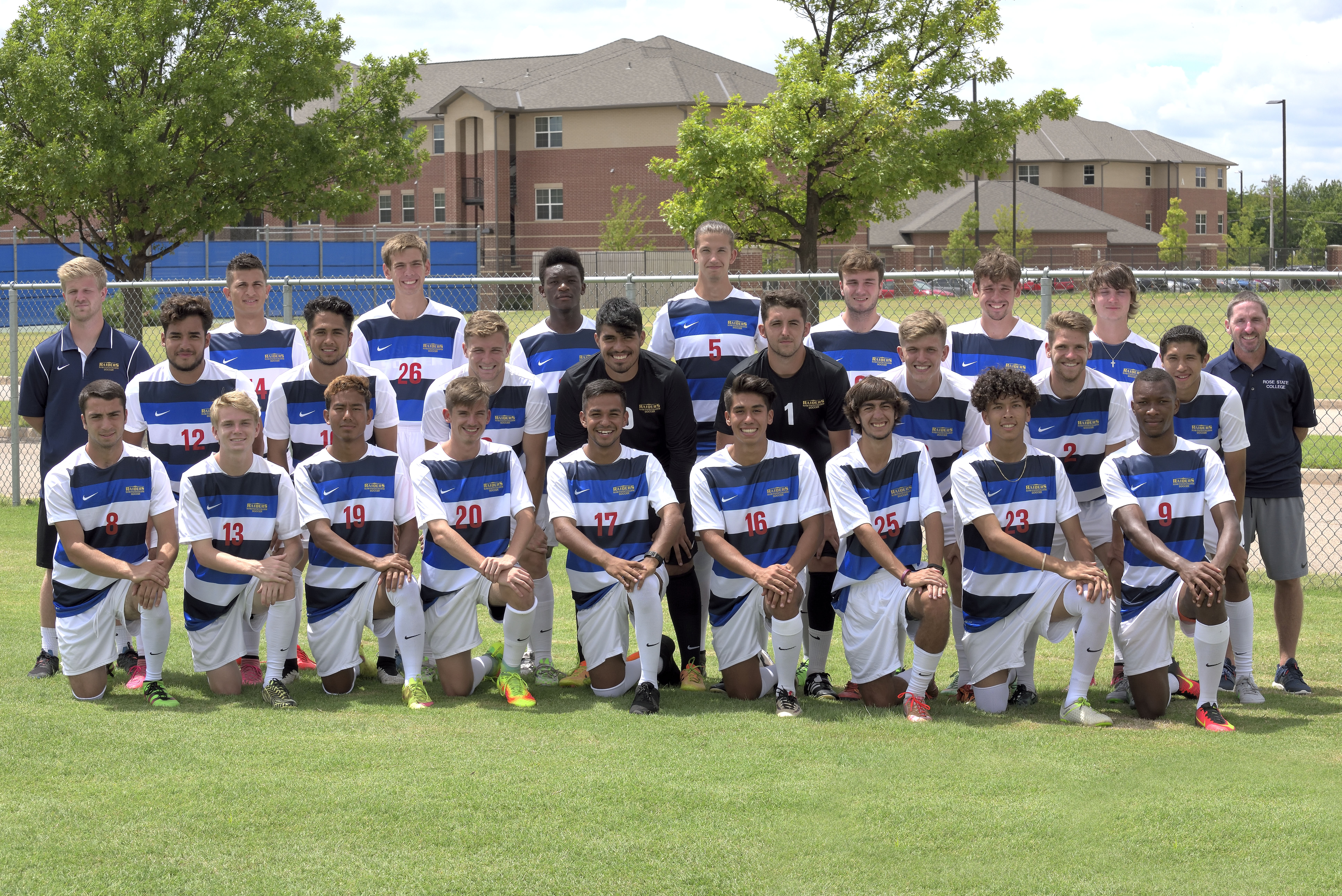 2016 Poster (PDF)
Mini-Schedule (PDF)
2016 Schedule
Day
Date
opponent
location
time
Score
Tue

August 23

Allen

Home

6 pm

W, 4-1 

Thu

August 25

Cowley

Arkansas City, KS

7:30 pm

L, 1-4 

Wed

August 31
Hill
Hillsboro, TX
4 pm
W, 3-1 

Thurs

September 1

Neosho

Home

3 pm

L, 5-1 

Fri

September 9

SWCU JV

 

11 am

W, 4-2 

Sun

September 11

Western Texas

Home

2 pm

W, 2-0 

Thu

September 15

Pratt

Pratt, KS

4 pm

L, 2-1

Wed

September 21

Hill

Home

4 pm

 L, 2-1

Sat

September 24

Crowder

Home

2 pm

 L, 1-0

Sun

September 25

Murray State*

Home

4 pm

 W, 3-2

Fri

September 30

NEO A&M*

Miami, OK

6 pm

 L, 3-2

Sun

October 2

Eastern*

Wilburton, OK

1 pm

 W, 2-1

Thu

October 6

NOC*

Home

3 pm

W, 2-1 

Sun

October 9

Murray State*

Tishomingo, OK

4 pm

 L, 3-2

Wed

October 12

USAO JV (Scrimmage)

Chickasha, OK

1 pm

L, 2-1

Sun

October 16

Eastern*

Home

3 pm

L, 2-1 

Thu

October 20

NEO A&M*

Home

2:30 pm

W, 2-0

 

Sun

October 23

NOC*

Tonkawa, OK

3 pm

L, 2-1

 

Sat/Sun

October 29/30

Region 2 Playoffs

Miami, OK

TBA

 

L, 1-0

Sat/Sun

November 12-13

District Playoffs

Miami, OK

TBA

 

Wed

November 16

National Tournament

TBA

TBA

 
*Region II
 
 
 
 
Overall Record
9-9
Conference Record
3-3
Men's All-Conference and Region 2 All-Tournament Honors
Men's All-Conference Most Valuable Player:
Aboubakr Diallo – sophomore 
Men's All-Conference for the 2016 Season:
Aboubakr Diallo – sophomore
Michael Bush – freshman
Carlos Molina – freshman
Jack Rose – freshman
Men's Region 2 All-Tournament Team:
Dean Wilson – sophomore 
Men's Conference Coach of the Year:
Billy Martin – Rose State 
Roster
Coaching Staff
Head Coach