For Faculty & Staff having trouble logging into your network account/PC, please click here for instructions.

Are you having trouble accessing OASIS? Clearing your web browser cache may solve the problem!  Follow these instructions (PDF)

Single Sign-on (SSO):
Once you've been accepted to Rose State College, your SSO (Single Sign-on) account and student email account will then be created (usually within 24 hours after acceptance). This system will be a one-stop shop that is integrated with the following: 
Canvas (Learning Management System for Coursework)
Online Databases (Databases used for research purposes)
Student OASIS (Campus Management System) 
Rose State College has partnered with QuickLaunch to provide faculty, staff, and students with a single sign-on (aka "SSO") capability. Now you can access the most common online resources supported by the college from a single portal location without having to sign into each application individually. You can also quickly change your logon password (in case you forget it or it expires) by using the SSO portal without having to contact the campus Information Technology Services department directly. You will only need to remember one password for accessing key College services. 
IMPORTANT NOTE:
After being admitted to Rose State College, you will receive your network ID via email from Admissions. The format of Student Network IDs is the first letter of your first name capitalized and the first letter of your last name capitalized combined with your student ID number. (Example: Jill Smith is JS01234567).
New students must follow FIRST TIME USER steps on the SSO login page.  Click "First Time Users" just below the yellow login button (see illustration).
To complete these steps, you will need your Network ID along with personal details that were recorded on your application.
PLEASE be sure to set up your initial challenge questions, and enter a secondary email address and mobile phone number as soon as possible. Those will be critical to verify your identity in the future.
The following link will take you to the main landing page so you can sign into the SSO: Click Here
Password Reset
The following link will take you to the main landing page so you can sign into the SSO: Click Here.  Click the "Forgot Password" link beneath the golden "LOGIN" button.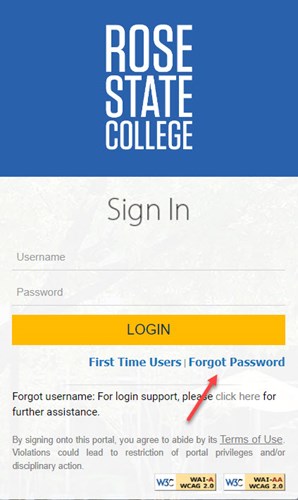 Enter your username and hit submit.


SSO Password Requirements:
Your password MUST be a minimum of
14

and a maximum of

28

characters in length.

Your new Password should be a passphrase. A passphrase is a sentence-like string of words that is longer than a traditional password, easy to remember and difficult to crack.

Must contain each of the following characteristics:
Upper case A-Z
Lower Case a-z
Utilize numbers 0 through 9
Non-Alphabetic characters (e.g. ! $ # & % *)
Password CANNOT contain all or part of your username, First Name, Last Name, or a US Zip Code.

You cannot choose a password that you have used 5 previous times. HINT:  Words found in the dictionary may not be accepted by the system. You may deliberately misspell a word if the system rejects your password. 
SSO Information
For additional information about the SSO, please click on the following link: https://www.rose.edu/sso
This includes information about the SSO portal solution and how to use it. 
If you still need further assistance, please contact our office at: (405) 733-7356
Office Hours: Mon-Fri 8AM - 5PM