Rose State College Hudiburg Chevrolet Center
One of Oklahoma's premier performing venues, the 1,400-seat Rose State College Hudiburg Chevrolet Center hosts top talent year-round.
Rose State College partners with the Civic Center Music Hall to hold a variety of events in the Rose State College Hudiburg Chevrolet Center. The center features exceptional theatrical capabilities, superb acoustics, and is designed to accommodate a variety of performances. The center has played host to live concerts, recitals, musical productions plus other cultural and educational events. 
The 1,400-seat venue hosts top talent year-round and has welcomed the likes of Grammy Award winner Martina McBride, Dave Chappelle, Clint Black, and David Sedaris.
You may purchase tickets by calling the Civic Center Box Office at (405) 297-2264 or using the "Buy Tickets" links below each show. 
Upcoming Events
Chris D'Elia Follow The Leader 2018 Tour
Friday, June 22, 2018 – 7PM
Hudiburg Chevrolet Center
Chris D'Elia first began performing stand-up regularly in 2006, and his brand of physical comedy soon made him a regular feature at comedy clubs throughout Los Angeles. In 2011, D'Elia earned a spot on Variety's annual "Top 10 Comics to Watch" feature, and acting gigs in shows like "Undateable," "Whitney," and "Workaholics" introduced him to a national audience ahead of the 2013 release of his first major stand-up special, "White Male. Black Comic."
Tickets
are on sale Thursday, March 29 at 11am.
Miranda Sings Live… No Offense with Special Guest Colleen Ballinger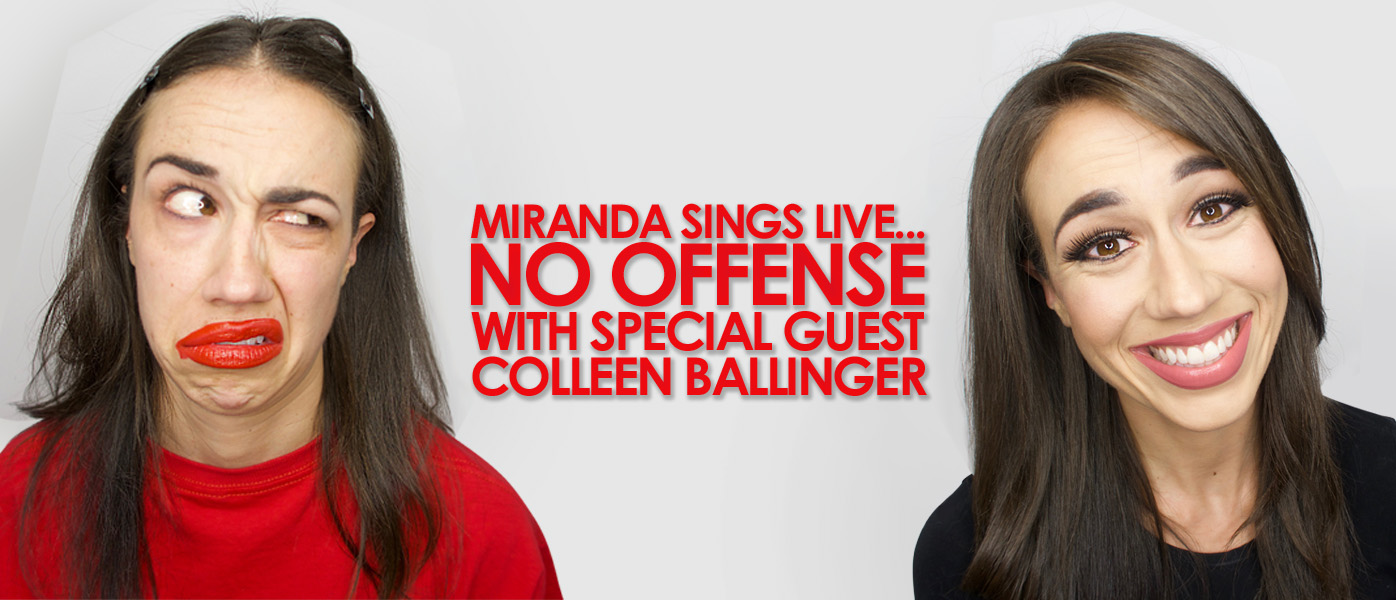 August 11, 2018 – 7:30pm
Presented by Good Fight Entertainment
Colleen Ballinger is a multihyphenate; actor, comedian, trained vocalist, writer and executive producer. Best known for portraying her character, 'Miranda Sings,' a personality that is the polar opposite of Ms. Ballinger, Colleen has amassed over 20 Million followers across social media and passed 2 billion views on YouTube. She can currently be seen as 'Miranda' on the newly released second season of her Netflix Original series, HATERS BACK OFF, as well headlining the worldwide, live tour, "Miranda Sings Live... You're Welcome."
The character Miranda was created in 2008 and became mainstream when Colleen received a personal call from Jerry Seinfeld to appear on his series Comedians in Cars Getting Coffee, and subsequently The Tonight Show with Jimmy Fallon. 'Miranda's' origins were intended as a parody of the young, self-absorbed singers with more far more confidence (and vibrato) than talent which Colleen saw uploading videos to YouTube. Miranda is known for her overdrawn red lips, questionable advice about singing and life, a deluded self-confidence, and over-the-top rants about her family and personal problems.
Colleen is also the co-author of the New York Times #1 Bestselling book Selp Helf, alongside her brother/producing partner, Chris Ballinger. She regularly appears on Live with Kelly & Ryan and served as a guest co-host on The View, as Colleen.
She currently resides in Los Angeles with her Instagram-famous cats, Prissy Gus Gus and Daisy Mae.
Danny Gokey: Hope Encounter Tour
Thursday, October 11, 2018 – 7pm
Rose State College Hudiburg Chevrolet Center
Presented by Outback Concerts
Tickets on sale Friday, June 1 at 10am
GRAMMY® nominee, Dove Award winner, and Capitol recording artist, Danny Gokey is gearing up for his first-ever headline tour with this fall's Hope Encounter. Also featuring GRAMMY® nominee Tauren Wells and breakout artist Riley Clemmons, the tour will hit 29 markets across the country, including Los Angeles, Atlanta, Seattle, Phoenix, Oklahoma City, and more. Produced by general market powerhouse Outback Concerts, the tour will play mostly theaters and performing arts centers.
"It's been a dream of mine since American Idol to headline my own major tour," says Gokey. "That platform opened my eyes to the power of mixing hope with entertainment. Hearing a message of hope at just the right time can truly make an impact in someone's life. Getting this opportunity is a dream come true! I love touring, being with fans, and seeing first-hand how the music can encourage people in a time in our society where hope (mixed with a little fun) is so desperately needed."
"The process of creating the tour has really been awesome," continues Gokey. "I can't wait to hit the stage with Tauren and Riley – they are both crazy good and I love their fresh sound.  We've also brought in uber-creative director Laurieann Gibson, who has worked with everyone from Michael Jackson to Katy Perry, to design the show and help me take it to another level."
Gokey continues, "My purpose with this tour is that people walk away entertained, inspired, empowered, and that hope invades every area of their lives."
Gokey became a favorite of millions of fans as a Top 3 finalist on Season 8 of American Idol. His first album, My Best Days, debuted at #4 on the Billboard Top 200 album chart. Since then, the Wisconsin native has celebrated a series of #1 album debuts, including his first award-winning holiday album, Christmas Is Here, as well as singles including the recently Gold-certified "Tell Your Heart to Beat Again" and "Hope In Front of Me." Gokey's latest album, Rise, reached #1 on the Billboard Top Christian Album chart and garnered his first Grammy nomination.  Its title track, marked his third, multi-week, multi-chart #1 single.
Tauren Wells, a four-time GRAMMY® nominee, debuted Hills and Valleys — his first full-length solo project — in July 2017, just prior to hitting arenas on the Lionel Richie/Mariah Carey 22-city "All the Hits Tour." The album's title track was one of the most streamed Christian songs of 2017, according to Spotify, and currently registers over 50 million total streams. The official music video and lyric video have combined views exceeding 25 million. His single, "Undefeated," also served as the soundtrack for the internet-famous Dude Perfect's "World Records Edition" episode on YouTube which, along with another Dude Perfect video featuring the No. 1 single "Love Is Action," has garnered more than 100 million views combined. Wells made history earlier this year by landing singles in both the #1 ("All My Hope (ft. Tauren Wells)" by Crowder) and #2 ("When We Pray") spots simultaneously on national radio charts.
Riley Clemmons is an 18-year-old, Nashville-based singer/songwriter signed to Capitol Christian Music Group. Her debut single, "Broken Prayers," skyrocketed at radio upon its release in early 2018 and the music video earned over a million views on YouTube in less than two months. The single has now crossed over ten million global streams. Most recently, Riley was featured on the song and music video for Social Club Misfit's radio single "Misfit Anthem" and mainstream DJ, Tritonal's "Out My Mind." Her upcoming full-length debut album releases August 3, 2018.
Straight No Chaser – One Shot Tour
Thursday, November 8, 2018 – 8pm
Rose State College Hudiburg Chevrolet Center
Presented by Emporium & AEG
Tickets
The upcoming tour coincides with the 10th Anniversary of Straight No Chaser signing with Atlantic Records and the release of their debut album, "HOLIDAY SPIRITS" after a video of the group performing "12 Days of Christmas" went viral on YouTube and became the most viewed video of 2007.  Upon the release of "HOLIDAY SPIRITS" in 2008, The New York Times predicted" this may be the year's most unlikely major label story." Now, ten years later with six full length albums and four EPs under their belt, the group will hit the road to celebrate and invite fans to join them on the "One Shot Tour."
Moscow Ballet's Great Russian Nutcracker
Friday, November 16, 2018 – 7pm
Rose State College Hudiburg Chevrolet Center
Presented by Talmi Entertainment
Christmas is coming and so is the one and only Moscow Ballet's Great Russian Nutcracker. Presenting world class Russian artists, hand-painted sets, Russian Snow Maidens, and jubilant Nesting Dolls – Great Russian Nutcracker brings the Christmas spirit to life for all ages. "Kids wide-eyed with delight!" says the New York Times. Experience the Dove of Peace Tour, spreading goodwill in over 100 cities across North America. Get seats now for the whole family and make memories for a lifetime at Moscow Ballet's Great Russian Nutcracker!
www.nutcracker.com
Lewis Black: The Joke's On US Tour
LEWIS BLACK, GRAMMY Award-winning, stand-up comedian, is one of the most prolific and popular performers working today. He executes a brilliant trifecta as a stand-up comedian, actor and author. Receiving critical acclaim, he performs more than 200 nights annually, to sold-out audiences throughout Europe, New Zealand, Canada and the United States. He is one of a few performers to sell out multiple renowned theaters, including Carnegie Hall, Lincoln Center, Brooks Atkinson Theatre, New York City Center, the Main Stage at the Mirage in Las Vegas and most recently, a sold-out Broadway run at the Richard Rodgers Theatre in New York City.
His live performances provide a cathartic release of anger and disillusionment for his audience. He is a passionate performer who is a more pissed-off optimist than a mean-spirited curmudgeon. Lewis is the rare comic who can cause an audience to laugh themselves into incontinence while making compelling points about the absurdity of our world.
LEWIS BLACK came into national prominence with his appearances on THE DAILY SHOW in 1996. Those appearances on THE DAILY SHOW led to comedy specials on HBO, Comedy Central, Showtime and Epix. In 2001, he won Best Male Stand-Up at the American Comedy Awards. He has released eight comedy albums, including the 2007 GRAMMY Award-winning The Carnegie Hall Performance. He won his second GRAMMY Award for his album Stark Raving Black and has published three bestselling books: Nothing's Sacred (Simon & Schuster, 2005), Me of Little Faith (Riverhead Books, 2008) and I'm Dreaming of a Black Christmas (Riverhead Books, 2010). In 2012, he performed eight sell-out shows at Richard Rodgers Theatre on Broadway as well as did one of his two HBO Specials BLACK ON BROADWAY. In 2015, Black notably voiced the character "Anger" in the Academy Award winning film from Pixar, "Inside Out."
Additionally, Lewis Black does a live streaming show on Audible called THE RANT IS DUE. There is behind-the-scenes moments from the Lewis Black tour bus, as well as occasional phone calls to the people behind the rants. From hate for pickles to disdain for online dating, this show channels the rage of 300 million neighbors and truly has something for everybody. More show info can be found here.