Rose State College Hudiburg Chevrolet Center
One of Oklahoma's premier performing venues, the 1,400-seat Rose State College Hudiburg Chevrolet Center hosts top talent year-round.
Rose State College partners with the Civic Center Music Hall to hold a variety of events in the Rose State College Hudiburg Chevrolet Center. The center features exceptional theatrical capabilities, superb acoustics, and is designed to accommodate a variety of performances. The center has played host to live concerts, recitals, musical productions plus other cultural and educational events. 
The 1,400-seat venue hosts top talent year-round and has welcomed the likes of Grammy Award winner Martina McBride, Dave Chappelle, Clint Black, and David Sedaris.
You may purchase tickets by calling the Civic Center Box Office at (405) 594-8300. or using the "Buy Tickets" links below each show.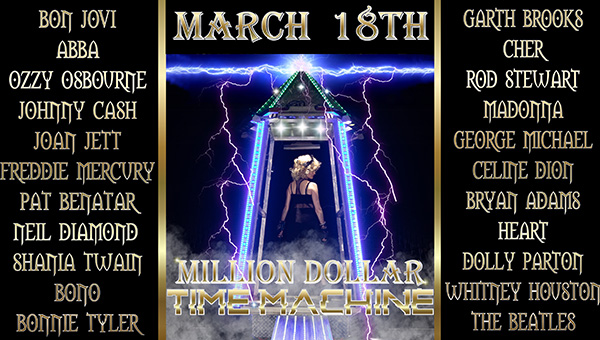 Million Dollar Time Machine
Mar 18, 2023 - 8:00 PM
A musical act from the FUTURE, performing with MILLION DOLLAR acts from the PAST and bringing it all together for you right here in the PRESENT.

Ever wish you could go back in time/ Now you can, WITH THE WORLD'S ONE AND ONLY TIME MACHINE LIVE ON STAGE!!!

America's newest musical sensation, Million Dollar Time MachineTM is coming to a city near you and there is nothing like it in the world. 24 of the greatest artists that have ever lived will emerge one by one from a time machine and share the same stage for a truly epic and mind blowing evening of music! You will be taken on a journey, A JOURNEY NEVER TO BE FORGOTTEN!

The TIME has come. For YOU. To relive your PAST.
Million Dollar Time MachineTM is the ultimate time travel experience and features only the best impersonators from around the world. Each night, the time machine year clock stops at 24 of the most defining points in the history of music and will summon which ever artist it chooses, pulling them from the year when they were at the heigh of their career!

You can expect to see the best live performances from million dollar acts such as;
Bon Jovi, Tina Turner, Bono, Elvis Presley, Cher
Prince, Johnny Cash, Ozzy Osbourne, Bryan Adams
Whitney Houston, Celine Dion, Michael Jackson, The Beatles
PLUS MANY MORE!!!

Featuring the 22nd century band, INFINITY, a musical act from the future, performing with million dollar acts from the past and bringing it all together for YOU right here in the present. America's most popular show will leave you in complete suspense because you never know who will emerge from the Million Dollar Time MachineTM next!

Ticket link: Buy Tickets
Mario Aguilar — Ser Loca No Es Facil
March 31, 2023 - 8:30 PM
Mario Aguilar, a unique and talented Tijuana-born comedian has charmed everyone on the internet with his iconic characters: the Dad, the Brunette, the Blonde, the Redhead and of course the Mom, which has undoubtedly portrayed the stereotypical latin mom.
Mario Aguilar consolidated as a comedian all over America, he has sold more than 300 shows between Mexico and other countries such as Peru, Bolivia, Argentina, United States, Guatemala, El Salvador, Paraguay and Ecuador.
"Ser Loca no es Fácil" was sold out in 2021 and during this year, Mario held 60 massive shows in Argentina, Mexico, Peru and other cities in the United States such as Los Angeles, Portland, Seattle, Denver, Salt Lake City, among others
Do not miss the opportunity to be part of this amazing comedy show!

Ticket link: Buy Tickets
Intocable Evolución Tour 2023
Friday, November 10, 2023 – 8pm
Hudiburg Center
Presented by Amplify Limited LLC

Intocable is one of th emost influential groups in the Tejano / Norteño music scene today. Their road to success began over twenty five years ago in Zapata, Texas, when friends Ricky Muñoz and René MartÍnez dreamed of rbinging their songs to the world as they crafted a unique and extraordinary style of music which expertly fuses Tejano conjunto music, Norteño folk rhythms, pop ballads and rock.

After years of dedication and passion, the dream became an indisputable reality. They continue to entertain and delight audiences across the world. Don't miss their "Evolución Tour" Live in 2023.

Intocable es uno de los grupos más influyentes en la escena musical tejana / norteña en la actualidad.  Su camino hacia el éxito comenzó hace más de veinticinco años en Zapata, Texas, cuando los amigos Ricky Muñoz y René Martínez soñaron con llevar sus canciones al mundo mientras creaban un estilo de música único y extraordinario que fusiona hábilmente la música de conjunto tejano, los ritmos folklóricos norteños, las baladas pop y el rock.
 
Después de años de dedicación y pasión, el sueño se convirtió en una realidad indiscutible. Continúan entreteniendo y deleitando al público en todas partes del mundo. No te pierdas su "Evolución Tour" en vivo este 2023.

Ticket link: Buy Tickets On Sale: Friday at 10am