Overview
At Rose State, we take being a "community college" to heart ... as such, we pride ourselves on providing a rich assortment of educational opportunities to the public.
The Community Learning Center (CLC) offers non-credit classes for all ages that begin at $25. CLC classes are available to all Rose State College students, faculty, staff, and the community. CLC classes are available for kids, teens, and adults/seniors that are offered from 1 day to 16 week classes.
Personal Enrichment Classes Schedule - Fall 2017 (PDF)
View/Enroll Adult/Senior Classes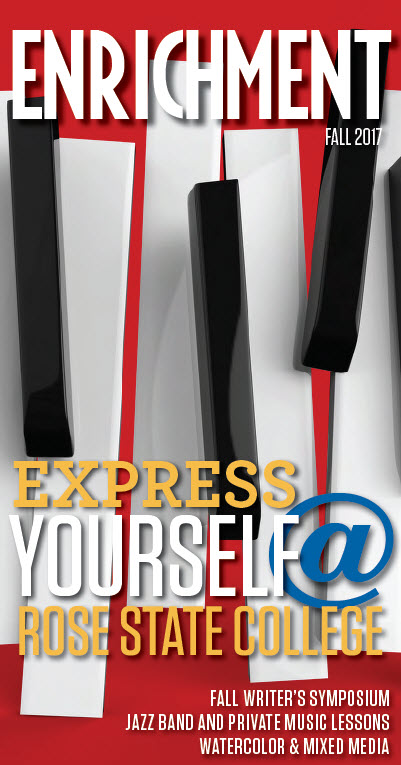 Classes Include: Art, Business/Finance, Conversational Spanish, Basic Computer Skills, Genealogy, Private Music Lessons/Community Ensembles, Day Trips, and so much more. These are non-credit classes, conferences, and activities with the best faculty/speakers to provide lifelong learning and a fun environment. 
Classes are designed to enhance the learning process in a fun, safe, and learning environment. Courses are offered for students from kindergarten to high school seniors. Classes are offered during the Fall, Spring, and Summer. 
New camps begin each Monday until the week of July 31st.

Classes are geared to young adults in grades 6-12. Courses place an emphasis on preparing ahead for the pursuit of responsible life decisions, career choices, and other purposeful direction for high school, college, and life. Going to college without Student Loans and ACT Prep classes are offered during Fall, Spring, and Summer semesters.
New campus begin each Monday until the week of July 31st.


Junior Service League of Midwest Kids College/Teen Scene Scholarships 
Eligibility: This award honors students in grades Kindergarten - 10th grade who are public, private, or home school students in the Mid-Del, Choctaw, and Spencer school areas. (Grade entering Fall 2017)
Award: One $69 Summer 2017 Kids College or Teen Scene Camp
Must demonstrate financial need and academic excellence.
Incomplete applications will not be accepted. All information will be kept confidential.
To find out more about Kids College/Teen Scene visit rose.edu/kids or call (405) 733-7392. 
The application is located at the following link: RSC Kids College or Teen Scene Scholarship Application Link
Rose State offers a wide range of highly interactive non-credit courses that you can take entirely over the internet. All of our courses are led by expert instructors, many of whom are nationally known. Our online courses are affordable, fun, fast, convenient, and geared just for you.
Rose State offers non-credit courses/programs in business, professional development, healthcare and medical, law and legal, human resources, career skills self-improvement, teaching/education, and MUCH MORE to promote lifelong learning. 
General Information
About The Community Learning Center
Street Address
6191 Hudiburg Drive
Midwest City, OK 73110
Get Directions
Phone
(405) 733-7392
Mailing Address
6420 SE 15th Street
Midwest City, OK 73110